Every winter, near 20,000 physical therapy professionals, students, companies, and vendors meet at some welcoming city and go absolutely nuts 😉
---
Here are highlights from CSM 2020 Denver.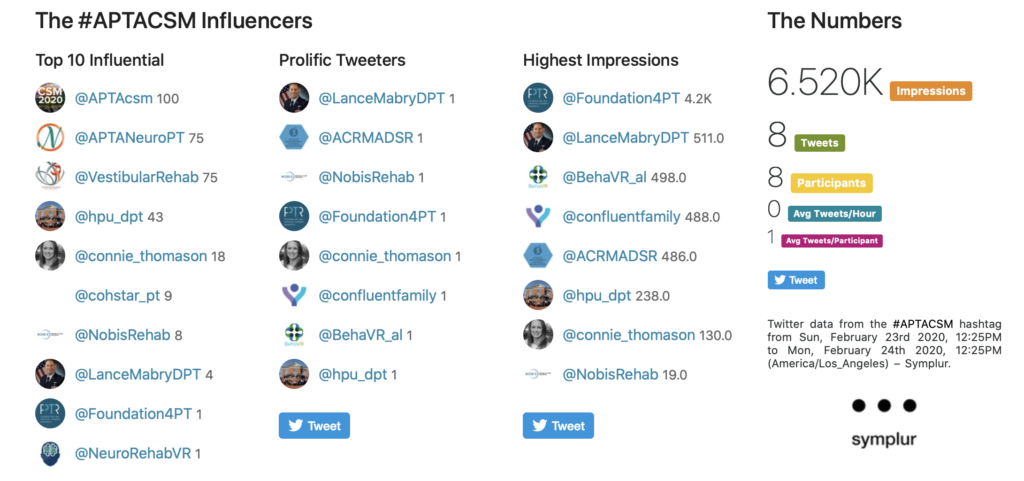 ---
THANK YOU! Thanks to everyone that came to help prep bags for the homeless here in Denver! #PTintheCommunity #APTACSM pic.twitter.com/mbrtS70zjN

— Berner, PT, DPT, RDN (@TheFuelPhysio) February 13, 2020
General question for clinicians…. am just being contrarian if I get bristly when it is suggested implicitly or explicitly that residency and fellowship are the ways to obtain 'proficiency'? #APTACSM pic.twitter.com/FxcCZVhYVj

— Sarah Haag (@SarahHaagPT) February 13, 2020
CSM After Dark #APTACSM pic.twitter.com/K6qLcmZ7FH

— Berner, PT, DPT, RDN (@TheFuelPhysio) February 14, 2020
Headed to #APTACSM in Denver this week? Don't miss the free after-hours leadership event, REACHING THE SUMMIT.

2 drink tickets & appetizers included. Space is limited to the first 200 people.

Tomorrow night. 8pm. Revel Social. RT to spread the word! 👍https://t.co/1P1u98hjQu pic.twitter.com/Eduyj4N8VD

— Scott McAfee PT, DPT, OCS (@McAfeePT) February 12, 2020
If your Theracane didnt get caught on someone elses at least 1x during #APTACSM, did you even CSM? 😂 https://t.co/RCytrpCbg5

— Erica Parazo, PT, DPT (@parazopt) February 16, 2020
I always love this view of #APTACSM – seeing the MOB of PTs & like-minded folks! pic.twitter.com/9kNrVe2nNx

— Chris Barnes PT, DPT (@CBarnesPT) February 13, 2020
Way to move! We hit our goal of 150 million steps at #APTACSM and will be donating $10K to @lubirds_light to construct a wheelchair swing in a Denver area park! pic.twitter.com/LbpmvzhGT6

— APTA (@APTAtweets) February 16, 2020
Shifting focus from high volume to high value patient(person)-centered care

Why we became PTs- to work w/ ppl to achieve their goals and return them to living their optimal life.

May ⬇️ feelings of burnout if we focus ea session on achieving their goal not units #APTACSM pic.twitter.com/t4jeOLuBG2

— Megan Mitchell, DPT (@MegMitchellDPT) February 13, 2020
#APTACSM hit 18,000 attendees for the first time! There is a lot of energy and excitement in Denver. pic.twitter.com/YWoJPDrHuK

— #APTACSM (@APTAcsm) February 13, 2020
#PTintheCommunity still going strong! Delivering care packages, serving meals, picking up trash, & even grinding coffee beans! #APTACSM pic.twitter.com/KQZD8VkCd4

— Berner, PT, DPT, RDN (@TheFuelPhysio) February 14, 2020
We truly are better together. Our patients deserve our specialized collaborative care! Honored to be invited to @APTAtweets #APTACSM and join @AASPTweets @AASPTCollPro and @TheAMSSM in this venue to present best practices! Not MY athlete, OUR athlete. pic.twitter.com/XxDD7ic6k2

— Tory (@torylindley) February 13, 2020
Avoid sport specialization in youth athletes! ⬆️ risk of burnout and overuse injuries #APTACSM pic.twitter.com/mJ8FPFBrsw

— Jeff Taylor-Haas,DPT (@jefftaylorhaas) February 14, 2020
That's a #APTACSM wrap for our Neuro Rehab VR team! We had a great conference and want to thank everyone who stopped by our booths and our friends over at Gorbel Rehabilitation for the launch of our new collaboration with their safegait system! pic.twitter.com/q7OcenCBia

— Neuro Rehab VR (@NeuroRehabVR) February 19, 2020
What an amazing CSM! Thank you for coming to our booth. Thank you for all your kind words and encouragement in how you love PhysioU. ❤️ #APTACSM #CSM2020 #ThePTGuide pic.twitter.com/bqHq0sW3w4

— Physio•U (@physio_u) February 18, 2020
Starting off day two of #CSM2020 with more excellent programming. Here are some pics from "Exercise Testing Moving Forward One Step at a Time" #APTACSM #cvpPT pic.twitter.com/QXetJuVg0S

— Cardiopulmonary APTA (@APTAcvp) February 14, 2020
Reoccurring theme from #CSM2020: #ExerciseIsMedicine. You wouldn't give a patient an arbitrary dosage of pharmacological agents, we shouldn't do it with exercise. Exercise has effects just like medicine & can be ineffective or even harmful if it's not dosed appropriately #APTACSM

— Rich Severin DPT, PhD(c), CCS (@ptreviewer) February 14, 2020
Day 2 of #APTACSM is 18,000 strong—full of learning, new friendships, happy reunions, and fun! pic.twitter.com/pCYisNo8cF

— APTA (@APTAtweets) February 14, 2020
How cool is it that after presenting to a room of 500+ people at #APTACSM last week, Diane Dalton presented the same lecture to our second year students in their spine class this morning!? 🤓 #LBP #evidencebasedpractice #movementcoordination https://t.co/uJnxpfVPK8 pic.twitter.com/XUZbxpWLJj

— Boston University Physical Therapy (@BU_DPT) February 19, 2020
Day 3 — #APTACSM finished out a record breaking conference with 18,000+ PTs, PTAs, and students making their way to Denver. This was a week full of great programming, networking and connections, and memories.

Thank you to all who attended! See you at APTA CSM 2021 in Orlando! pic.twitter.com/nrhLeGpBZr

— #APTACSM (@APTAcsm) February 15, 2020
"Caregivers are integral to patient safety and success at home" –@nnewlander1

How can we as acute, post-acute, and home health PTs support caregivers during care transitions?!@HomeHealthAPTA @APTA_Geriatrics #geriPT #APTACSM @HPAAPTA #geriPT #geriatrics

— Jason Falvey, PhD (@JRayFalvey) February 14, 2020
Are you an early career PT or PTA? Visit the @PTPAC booth at the #APTACSM exhibit hall to find out how to join the newest group of advocates for the profession! You want to be in this club 😉 @Kendra_PT4Life pic.twitter.com/4irHRhUWjW

— Heather Jennings (@HeathJenningsPT) February 13, 2020
APTA Student Assembly Director of SPTA Relations, Scotlyn Gamboa, SPTA, did a great job presenting at the APTA CSM 2020 PTA Town Hall. #APTACSM #DPTstudent #PTAstudent pic.twitter.com/Lyyfc55tpl

— APTAStudentAssembly (@APTASA) February 14, 2020
The following two tabs change content below.
Editor in Chief, PhysicalTherapist.com