OMNIBUS RULE COMPLIANT HIPAA MANUAL FOR PRIVATE PRACTICE THERAPY PROVIDERS
---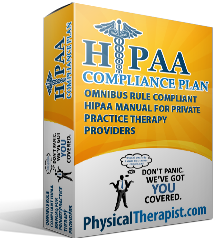 Did you know that all rehabilitation/therapy providers are REQUIRED to comply with the new HIPAA Omnibus Rule, or risk facing major penalties?
Did you know it already went into effect on September 23, 2013?
Most importantly, are you in compliance? Do you have a HIPAA Compliance Plan? With the new HIPAA Omnibus Rule, penalties have increased for noncompliance up to a maximum of $1.5 million per violation.
"This final omnibus rule marks the most sweeping changes to the HIPAA Privacy and Security Rules since they were first implemented"

–Leon Rodriguez, U.S. Department of Health & Human Services Director of Civil Rights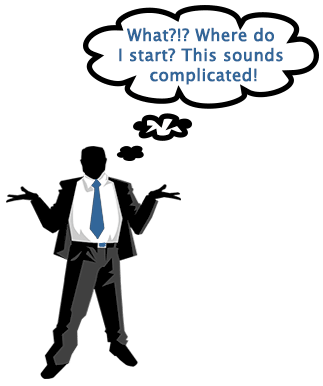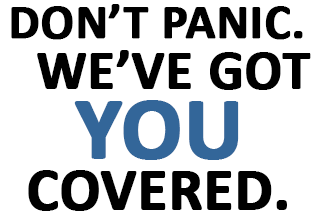 PhysicalTherapist.com has partnered with a leading health care compliance law firm to offer a full HIPAA Compliance Plan designed specifically for private practice rehabilitation/therapy providers, allowing you to fully satisfy your obligations under the HIPAA Omnibus Rule. This HIPAA Compliance Plan includes:
Complete HIPAA Procedure Manual
Sample Business Associate Agreement
Sample Notice of Privacy Practices
Sample Acknowledgment
Sample Authorization
BONUS!
In addition to everything mentioned above, we've also added the following important documents at no additional charge! These will help ensure you're in full compliance with the HIPAA Omnibus Rule.
HIPAA Privacy and Security Rule Policies and Procedures
Notice of Protected Health Information Practices (Privacy Notice)
Acknowledgement of Receipt of Privacy Notice
Patient Authorization for Practice to Obtain or Release Protected Health Information
Business Associate Agreement
Compliance with the HIPAA Omnibus Rule is not optional. Don't risk major penalties and fines! Get your HIPAA Compliance Plan today!
By purchasing this HIPAA Compliance Plan, which has been prepared specifically for the rehab industry, you will be provided with the above document templates to assist in complying with the new HIPAA requirements.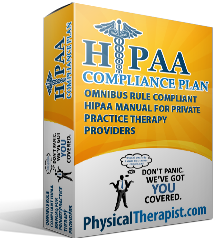 ---
Disclaimer: The information provided in this site is not legal advice. We are not a law firm and are not a substitute for an attorney or law firm. Communications between you and PhysicalTherapist.com are protected by our Privacy Policy, but are not protected by the attorney-client privilege or work product doctrine. PhysicalTherapist.com cannot provide legal advice and can only provide self-help services at your specific direction; PhysicalTherapist.com cannot provide any kind of advice, explanation, opinion, or recommendation about possible legal rights, remedies, defenses, options, selection of forms or strategies. Please note that your access to and use of PhysicalTherapist.com is subject to additional Terms of Use.