Did you miss out on CSM 2019? Have no fear — here are some highlight moments!
Can you tell who the novice, intermediate, & expert flossers are?!🤣

When your @APTAtweets President @DunnSdunn2 has this much fun after an 18 hr day, you know you picked the rt profession😄#APTACSM #CSM2019 #Physiotherapy #PhysicalTherapy #DPTstudent pic.twitter.com/VyTUXzamJ8

— 🧠🎙 Jess Schwartz 👩🏻‍⚕️🗽 (@DPT2Go) January 25, 2019
@Alex_Haun13 won the battle #APTACSM @ATSUDPT @danarody pic.twitter.com/KfMNVqmX4c

— Kelsey (@Kelsjhorton) January 26, 2019
😱 LESS THAN THREE HOURS LEFT TO VISIT BOOTH 1713 FOR THE CHANCE TO GET $2,500!?!😱

Let's ride the DC way. #APTACSM #CSMwithFOX pic.twitter.com/8ZzsS6kZdE

— FOX Rehabilitation (@FOXRehab) January 26, 2019
Looking at @DimarcoLindsay VOR #DukeAtCSM #APTACSM @VestibularFirst pic.twitter.com/QCkqXvooSl

— Stephanie Igo (@stephanie_igo) January 26, 2019
Some more cutting edge technology from #APTACSM pic.twitter.com/VJbUYC2wtH

— Advanced (@gowithadvanced) January 26, 2019
#APTACSM / #CSM2019 was a true hustle +bustle in the nation's capital. In attendance was our own @TherapyInsiders with perspectives on the event and a challenge issued from trends observed this year.

Watch: https://t.co/yoFzdSElnR

Your challenge response & thoughts? pic.twitter.com/3yaE9rJ1c5

— UpDoc Media (@updocmedia) January 28, 2019
We're talking about the PT Licensure Compact and what PTs and students need to know. https://t.co/T8hYpyI6uX #APTACSM

— APTAStudentAssembly (@APTASA) January 30, 2019
Thanks to everyone who joined us in DC for the second largest #APTACSM ever—full of outstanding programming, engagement, and passion!

See you at CSM 2020 in Denver! pic.twitter.com/C57Rt52B9I

— #APTACSM (@APTAcsm) January 28, 2019
---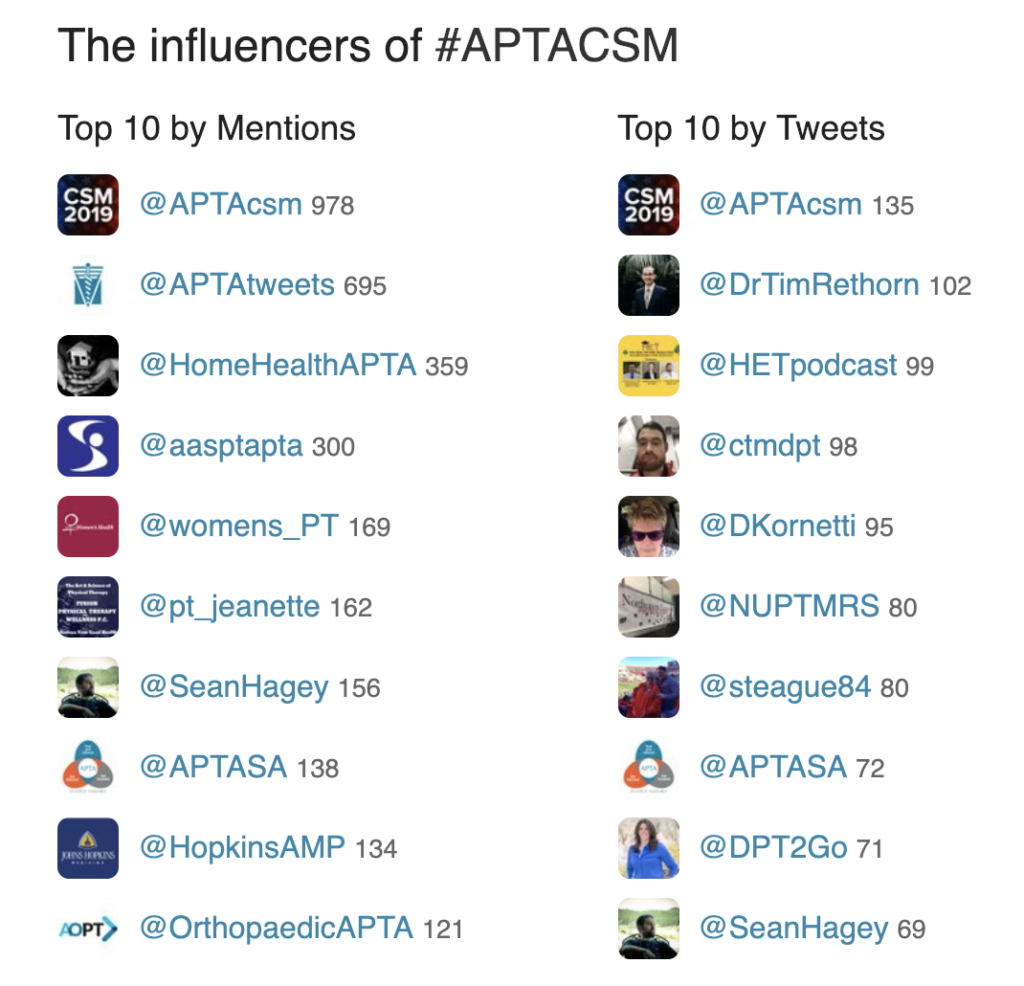 For more on the happenings, check out the analytics at Symplur Hashtags.
The following two tabs change content below.
Editor in Chief, PhysicalTherapist.com