Today's article comes from Patrick at E-Commerce Tips.
---
Being a physical therapist can be a fulfilling career: you get to help people and make a huge difference to their lives. But what if you want to make some more money while still doing something you love?
If you want to earn a bit more on the side, change the direction of your career slightly, or even just pay off some of your student debt, you should consider ecommerce.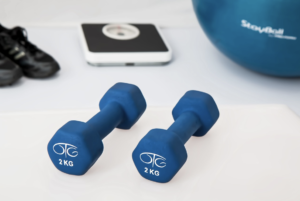 There are many different — and profitable — opportunities for physical therapists wanting to try their hand at ecommerce. Below we've listed four of the best options to get you started: read on for ecommerce inspiration.
Online consultation
A ecommerce opportunity to consider if you are a physical therapist is online consultation. You may not consider this as "ecommerce", but in fact you are selling a product online: your knowledge. Why not use your knowledge as a physical therapist to help people online, while making yourself some money?
Online consultation is an easy and profitable option to set up, especially if you've already built up a number of connections and a customer base over your previous years as a physical therapist.
All you need to do to start your online consultancy is to create your own website. With the existing range of easy-to-use website builders, you can make your own website in a matter of hours — and without breaking the bank.
You don't have to be super tech-savvy or know code by heart to build your own site these days. There are many "drag and drop" options out there that are simple, intuitive, and come with a range of professional-looking themes. You can then populate your site with information about yourself to help you stand out: your background, qualifications, previous PT experience and success stories.
Once your new website is up and running, you can begin consulting online. After all, you've got the experience and knowledge you need; this is just a different way of using your skills. Instead of meeting clients at your practice, you will be consulting and scheduling regular follow-ups via video, email, chat or phone calls.
Sell online courses or treatment programs
As well as offering online consultation, you could also sell ready-made online courses or programs on your website.
As a physical therapist, you probably have a rough idea of the course of treatment each patient should follow when they arrive at your client — while of course tailoring it to their needs as time goes by.
Selling online treatment programs works in a similar way, but in this case you're detailing exercises and treatment places through downloadable videos, PDFs or ebooks.
There are many benefits to creating online PT courses, not just for you but also for your patients. Some people will need physical therapy but will be put off by the costs of session, and the hassle factor of travelling. Online therapy programs are brilliant for patients like this, as they can follow treatment plan in the comfort and safety of their own home. If they have any additional questions, they can still seek your professional advice via email.
Sell physical therapy-focused products online
If you really like the idea of combining physical therapy with ecommerce, why not set up an online store? You can sell PT products and equipment that clients can use in their own home to improve their physical health and fitness. You can even market your products towards other PTs and retail items that they would buy.
Unless you want to make your own products (which is a lot of hard work, especially if you have no background in manufacturing), it is best to partner with an equipment manufacturer.
A simple way of doing this is through dropshipping — the third party works to create, supply and ship the product to the customer, while all you have to do is maintain and market your website.
If the logistics of setting up your own store seem too daunting, then you can also purchase an existing online store for sale. Online marketplaces like Exchange have health and sports categories so that you can find an established site aligned with your own brand and style.
Setting up or buying an online store will cost you initially, but if you put the work in, you can soon turn a profit.
Become a PT blogger (and monetizing your content)
You might not think of blogging as a profitable ecommerce opportunity, especially as a physical therapist. However, it is definitely possible — and profitable — to monetize a blog.
Blogging is a fun side-hustle to pursue if you love writing as well as your job as a PT.
If you've already set up a website to advertise your services, you can easily add a physical therapy-centered blog.
You can include all sorts of posts on your blog: from industry news, updates on your practice, to top exercise tips to how to use therapy equipment properly. There are many topics that you can write about that will increase the value of your site to your patients — and other physical therapists. But how do you monetize a PT blog?
The easiest option to start is affiliate marketing. Sign up to an affiliate program (such as Amazon Associates or specific PT affiliate programs) where you will get a percentage of the profits every time someone purchases a company's product by clicking on a link on your site. You can include product reviews, how-to tutorials and recommendations on your blog.
The trick is to not come across as too salesy or artificial when you include links in posts. Instead, you should stick to promoting products and equipment that you naturally use yourself in PT sessions, and would recommend your patients using too.
You can also sell advertising space on your blog using Google AdSense and get paid every time an ad gets a view or click.
These are just four possible and profitable ecommerce opportunities that you can pursue as a physical therapist. None of these require any further qualifications, and can be set up today; all you need is some enthusiasm, a small amount of money and a bit of free time.
Of course, there are many methods you can make money as a physical therapist rather than sticking to the traditional route: consulting large pharmacy and equipment companies, guest blogging using your PT knowledge on other sites, or training other PTs.
The beauty of online business is that you can run it from anywhere without expensive overheads and travel restrictions.  Furthermore, you can reach a far wider audience online than you ever could with a local business, simultaneously making money and helping people across the world with your expertise.
The following two tabs change content below.
Editor in Chief, PhysicalTherapist.com