Today's guest article comes from the NewGait team, founded by former high level athletes and engineers who found their ideas to become a solution for physical rehabilitation.   
---
By Jordan Strofaci.
The SpeedMaker device was conceptualized in 2014 by Benga Adeeko, a licensed professional engineer and former track & field standout. With a desire to help athletes train more effectively, he began developing a device that would strengthen the gluteus and hamstring muscle groups without compromising running form. After months of development, he presented the first SpeedMaker prototype to Jordan Strofaci, a fellow track coach and speed trainer who instantly loved the idea. It was at that point in which Benga and Jordan co-founded Elite Athlete Products.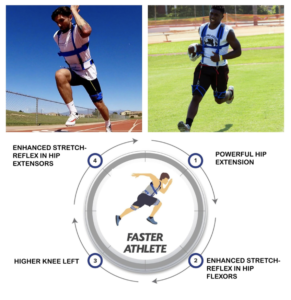 The NewGait was birthed in 2016 when Kim Spranger, a physical therapist, saw the SpeedMaker, and thought to use the apparatus to rehabilitate a young woman that had a devastating spinal cord injury. The video of her recovery can be seen here. After seeing the transformative effects of the device, our team has since entirely shifted efforts to restoring hope to disabled patients and putting the care back in healthcare with The NewGait.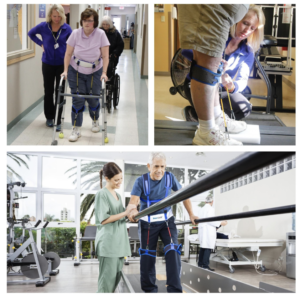 The NewGait can be described as a low tech, soft exo-muscular harness, that provides manual queuing through strategically placed elastic bands. Multiple attachment points across the harness allow the elastic bands to assist specific muscle actions depending on the patient's needs. These bands also cross multiple joints creating compression resulting in improved proprioception, balance, and coordination.
Since pivoting to healthcare two years ago, we are elated to have restored hope to numerous people with various gait abnormalities. One of our most uplifting stories comes out of the Upper Peninsula of Michigan. At the age of 25, Rebecca Houghton had a grand mal seizure and was put into a medically induced coma. Her family was told that she would never wake up. Six months later, she did wake up, and was diagnosed with progressive multiple sclerosis. Rebecca was paralyzed on the left side of her body and confined to a wheelchair. Today, you would have to see her progress to believe it. The NewGait, paired with her drive and determination, helped Rebecca achiever her goal to return to normal functionality.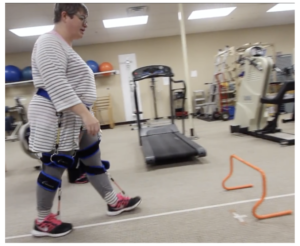 "It's been life-changing for me. The first time I ever put this on was three weeks ago and it was 20 minutes maybe I had it on, it was like night and day… My body was like, I remember this, this is what it feels like to walk like a normal person. Because I have to think, without all this I literally had to focus on my feet so I wouldn't fall, and I don't have to do that anymore… I love it! I love it! I stop thinking, I just stop thinking and walk." – Rebecca Houghton
With a number of early adopters and testimonials just like Rebecca's, we decided to verify its effectiveness with clinical research. Northern Michigan University grad student, Alyssa Rebensburg, tested the effects of adding the NewGait to traditional therapy in patients with multiple sclerosis. Eighteen patients participated in an 8-week physical therapy protocol aimed to improve gait and balance with the experimental group wearing the NewGait device. Pre and post training assessments of gait variables such as walking speed, step length, double limb support time, balance confidence, and rate of perceived exertion were collected and compared to the control group who completed the protocol sans the NewGait.[1] You can see some of the highlighted results below, and see the full study results here.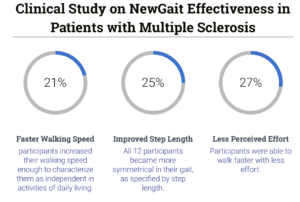 "The addition of the NewGait to physical therapy is beneficial to improving walking performance in persons with multiple sclerosis, and using this device may help improve quality of life by improving gait and ambulatory status… The experimental group experienced larger improvements in balance confidence, and coordination when compared to the control group… After using the NewGait device, participants experienced significant increases in balance confidence and lower limb coordination."[1]
The device is currently on the market and available for both clinical and home use. It has been adopted as a rehabilitation tool at the University of Michigan, the Rehab Institute of Michigan, the Mayo Clinic, and Mount Sinai, among other smaller clinics. You can learn more about our team and how to trial the NewGait device here on our website. With dozens of anecdotal success stories, the team at NewGait is focused on conducting more research. We have recently submitted a grant application to the National Institute of Health for further research and product development. Despite being an early-stage startup, we know if we stay in line with our mission; to promote recovery, increase mobility, improve quality of life, and restore hope to those with movement limitations through our innovative products, we will be able to positively impact millions in the future.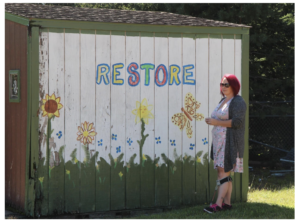 ---
REFERENCE:
Rebensburg, Alyssa J., "THE EFFECT OF A NOVEL REHABILITATION PROGRAM ON WALKING PERFORMANCE IN PERSONS WITH MULTIPLE SCLEROSIS" (2019). All NMU Master's Theses. 583. https://commons.nmu.edu/theses/583
The following two tabs change content below.
Editor in Chief, PhysicalTherapist.com