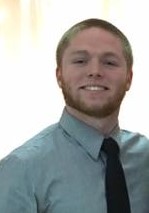 Dr. Trace McClintock is a licensed physical therapist practicing within the Department of Veterans Health and Administration. After graduating from Governors State University in 2018, Trace moved to Texas to begin working at the Central Texas Veterans Healthcare System. As a Health Professionals Scholarship Program recipient, his career has always been within the Veterans Affairs (VA) system. The son of a retired and disabled United States Coast Guard veteran and grandson of a retired Army veteran, Trace has always known his end got was to work for and with those who served our country. 
Through his first two years, Trace has practiced in inpatient acute care, skilled nursing, outpatient physical therapy and is currently working partial coverage on the COVID-19 unit. With a passion for working with our nation's veterans, Trace has continued to answer the call for wherever service is needed, including the front lines of care during the 2020 pandemic.
Outside of clinic he remains very active within the profession hosting two podcasts, Ducklegs podcast and The Whiskey Docs podcast.  While his first two years have been rather busy completing over 120 hours of CEUs through the McKenzie course sequence and obtaining his vestibular rehab certification through Evidence CEU, he also has a variety of interests outside of the profession.
Currently, Trace is working towards his Texas Real Estate license as he has a passion for continuing to serve others outside of clinic hours. Once completing his license, he plans to work mainly with veterans and first-time home buyers as he enjoys guiding people through overwhelming times in their lives as he does with his patients in clinic. 
If you care to learn more about Dr. Trace McClintock please go through his personal blog as he reviews topics such as personal finance, pursuit of goals outside of clinic, and the application process of getting on with the Department of Veterans Affairs. 
The following two tabs change content below.
Editor in Chief, PhysicalTherapist.com