Here at PhysicalTherapist.com, at the special request of a patient advocate to the Physical Therapy profession — we are starting a new micro-column of featured clinicians as a movement in highlighting champions within our field.
---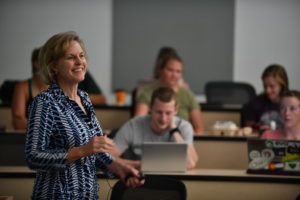 Tami Struessel is an Assistant Professor in the University of Colorado Physical Therapy Program.  She teaches in the areas of practice management, clinical reasoning, differential diagnosis, and musculoskeletal physical therapy practice.  As part of the Interprofessional Education Program, she facilitates learning amongst groups of MD, PA, DDS, RN, PharmD and DPT students in the area of quality improvement and patient safety. She coordinates the Quality Improvement and Safety Curricular Element for the DPT Program and is involved in educational research in this area.  She has presented locally, nationally and internationally on her research, health policy and various orthopedic topics over the past 13 years. As a member and past President of the Colorado State Physical Therapy Board, she is one of 4 physical therapist Board members responsible for regulating physical therapists in the state.  She has been a practicing clinician for 27 years and is a board-certified orthopedic clinical specialist and certified manual therapist.
The following two tabs change content below.
Editor in Chief, PhysicalTherapist.com