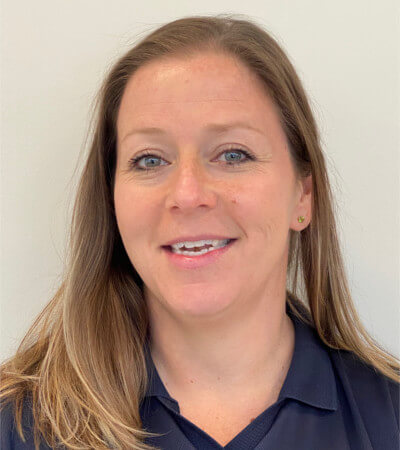 Penny Goldberg, PT, DPT, ATC is the assistant director and sports physical therapist at ReQuest Physical Therapy in Gainesville, Florida. Penny earned her doctorate in Physical Therapy from the University of Saint Augustine in 2012 and completed an American Physical Therapy Association (APTA) credentialed sports residency at the University of Florida in 2014. At UF she provided physical therapy services for varsity athletes from all sports.  She became a Board Certified Clinical Specialist in Sports Physical Therapy in 2017.
She completed a Bachelor of Science degree in Kinesiology with an emphasis in Athletic Training and a Master of Arts degree in Physical Education with an emphasis in Biomechanics from San Diego State University in 2001 and 2004, respectively.  Her Master's Thesis was on preventing concussion and dental injuries in Division I Women's Soccer players and prevention of athletic injuries has continued to be a major focus of her career.
Prior to physical therapy school, Penny worked as a Certified Athletic Trainer at the University of San Diego, California State University at Northridge, and Butler University   where she worked extensively with athletes from the volleyball, baseball, soccer and softball teams.  She also has substantial experience working with swimmers as she was a competitive swimmer and later spent several years coaching in the club she grew up in.
Penny is an active member of the APTA, a credentialed clinical instructor, and a Clinical Athlete Provider. She has presented at national meetings on Kinesiophobia in Outpatient Physical Therapy, Differential Diagnosis of Ankylosing Spondylitis, Transient Osteonecrosis of the Femur in an Active Female, and Tibial Plafond Fracture in a High-level Distance Runner.  She has also published on topics including returning to sports after anterior cruciate ligament reconstruction and fear of movement/re-injury across the spectrum of outpatient physical therapy diagnoses.  She is currently serving on the committee that is developing the assessment tool to be used in physical therapy residency training as well.
Penny has focused her continuing education on running gait analysis, biomechanics of the shoulder in overhead athletes, strength training for runners and youth athletes, post-surgical rehabilitation and return to sport testing protocols, and training the female athlete.
She has recently become more active in building relationships between physical therapists and athletic trainers to improve the overall experience for athletes with injuries after noticing the divide between the professions was growing rather than coming together.  She has started a Facebook group called "PT/AT Connection- Physical Therapist and Athletic Trainer Mentoring" that is open to students and professionals that are PTs, ATs, and dual credentialed PT/ATs where she hopes to foster inter-professional collaboration and provide mentoring for physical therapy and athletic training students and young professionals.  Additionally, she recently launched her website- oPTimal-educATion.com (but it's still very much under construction!) where she will house educational materials and resources.  The blog is up and running at www.oPTimal-educATion.com/blog with posts directed at addressing some of the most common struggles that students encounter during their clinical experiences. Additional topics to be covered in the blog include building inter-professional relationships, leadership skill development, and mentoring of students and young professionals from both disciplines.
Outside of the clinic, Penny enjoys traveling, good cooking with great wine, concerts, working out and playing with her dogs.
People can find me at www.requestphysicaltherapy.com and soon to be www.oPTimal-educATion.com
Email:  [email protected]
Facebook:  https://www.facebook.com/penny.goldberg.5
Facebook Group: https://www.facebook.com/groups/PTATConnection
Twitter: https://twitter.com/nikegal7
Instagram:  https://www.instagram.com/penny.g.07/
Linked In:  https://www.linkedin.com/in/penny-goldberg-280833b/
The following two tabs change content below.
Editor in Chief, PhysicalTherapist.com