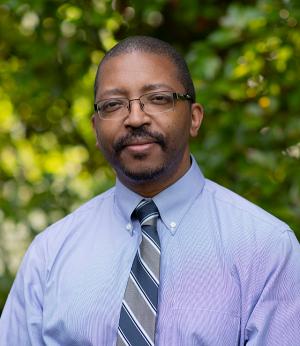 Michael Harris-Love, PT, MPT, DSc, FGSA, a clinician-investigator with more than 20 years of experience serving federal medical centers and academic programs, was appointed director of the University of Colorado School of Medicine's Physical Therapy Program and associate dean of Physical Therapy Education, effective Aug. 1, 2019.
In addition to his duties as a professor within the Department of Physical Medicine and Rehabilitation, Harris-Love will continue his role as a Veterans Affairs (VA) investigator through his affiliation with the Eastern Colorado Geriatric Research, Education and Clinical Center.
"Dr. Harris-Love will build upon the tremendous growth of the Physical Therapy Program under Dr. Margaret Schenkman's tenure, while exploring new ventures related to education and research," said Venu Akuthota, M.D., chair of the Department of Physical Medicine and Rehabilitation.
Harris-Love comes from the Washington, D.C., VA Medical Center (VAMC) and George Washington University Milken Institute School of Public Health, bringing extensive clinical research experience to the CU Anschutz Medical Campus. His VA scientific leadership roles included serving as the associate director of the Human Performance Research Unit and co-director of the Polytrauma/Traumatic Brain Injury (TBI) Research Rehabilitation Fellowship Program at the D.C. VAMC Clinical Research Center.
A committed advocate of rehabilitation science training, he helped to establish both the postdoctoral training program and the Skeletal Muscle Laboratory at his VA medical center. Before his faculty appointment at George Washington University, Harris-Love spent time at universities in Virginia, Maryland and Indiana.
"My time working in public and private institutions, federal and university laboratories, and entry-level and post-professional education may help me to address the needs of the program and effectively build partnerships at the Anschutz Medical Campus," Harris-Love said. "My goals include building our physical therapy residency programs, increasing our efforts to support rural PT practice, and better serving Colorado students by expanding our educational outreach. This may occur through strategic alliances with CU system partners like the University of Colorado South Denver and the Hybl Sports Medicine and Performance Center at UCCS.
"Addressing the dual challenge of college enrollment trends and cost concerns, while also effectively meeting the needs of an increasingly diverse population of students and patients will require us to cross intercampus divides and truly function as one CU."
Harris-Love is a Fellow of the Gerontological Society of America and a recipient of the Mayo Clinic Physical Therapy Outstanding Alumnus Award. He succeeds Margaret Schenkman, Ph.D., PT, FAPTA, who led the CU Physical Therapy Program for 15 years.
The following two tabs change content below.
Editor in Chief, PhysicalTherapist.com