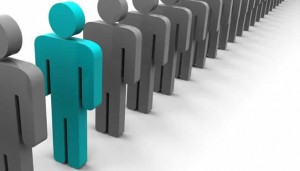 Recruiting for medical practices would be much easier if hiring was as simple as going to the drive-thru window at McDonalds. "Hold the onions and extra pickles" would be my request while the person behind me can easily place his custom order to "hold the mustard".  After taking a few bites, discovering an error, I just toss the burger or scrape those onions off the bread.
Recruiting professional staff is never as easy as placing an order and choosing from the menu of applicants.  Finding that first applicant can be a chore and rarely do we have the luxury of multiple applicants. The Secret of Recruiting is to create an atmosphere where your optimal applicant can find you at the right time.
I have worked with many practices to enhance or create a recruiting event. For a single effort, or even with an ongoing program, I attempt to create a mindset based on my "Five R's of Recruiting". These "Five R's" for a recruiting event are: "Right Start", "Right Person", "Right Message", "Right Time", and "Right Product".
"Right Start"
Recruiting the best staff for your practice seldom happens by accident. To begin the process, I return to my clinical roots and start with a critical evaluation of the practice.  Define your practice to determine what part will fit. Evaluate and write down your practice strong and weak points.   For the goals section of the evaluation, capture a picture of what type person would complement or enhance your practice. For treatment component, you develop a plan of action.
Just as it happens with a patient evaluation and goals, you set a plan for each patient and reach as many goals as seems realistic. Along the way, you will assess applicants and the plan while you reach for optimal results.  It is critical that you place this evaluation to paper and be truthful with the process.   This evaluation is your starting point; you will see how this evaluation is used throughout the recruiting process with the "Five R's".
 "Right Person"
Each practice is trying to match the perfect staff for their unique needs. This plan is hindered by limited supply of candidates; paired with a competitive market. It's amazing; but, great matches can be made when you search with a good game plan.
One advantage in the medical field is that clinicians have credentials with standardized training. While this can give a level of technical competency; it obviously can miss the personality, specialized skill sets, and work ethic that might fit your unique practice.
To find the correct person, I build from the clinical evaluation model described  previously.  You will probably not find a partner who is a perfect match; however, the exercise of evaluating the practice defines a yardstick to judge hiring criteria and recruiting direction.  Keep your evaluation handy for the interview process. Carry the list around in your pocket so you can quickly reference your selling points during any unexpected phone inquiry or the in-person interview. This evaluation list gives you something to reference and focus on during the actual interview process.
Prepare in advance for the interview with your evaluation and keep a written plan with you.  Some employers like structured interview questions and some prefer the open ended questions.  Remember the candidate may be nervous and interview poorly or they could be an accomplished boaster (not necessarily a bad trait with some practices situations… if grounded with truth).  Direct you interview around your evaluation points and take notes only after completing the interview.  Maintain eye contact and stay engaged during the interview.
"Right Message"
When shopping, I enjoy listening to the sales person, observing store presentation, and reading the package advertisements. A strong sales approach can include a smooth presentation, intriguing starting points, truth, professionalism, enthusiasm, truth, knowledge, and a little showmanship for emphasis. You notice I listed truth twice because I believe in all the points and keep truth resting on my shoulder at all times.
I once had an initial phone interview with a hospital administrator that I will never forget. He started our phone conversation with, "I refuse to pay those high salaries the therapists want." Wow, that was a terrible starting point for an interview; needless to say, I did not take the job.
Personally, I have never used salary as a deciding point in a job and was offended with his opening statement. That administrator should have read some of my articles or let someone else do the hiring. While I believe in truth; presentation and showmanship in recruiting is critical.
Present the facts but use a positive light to create a positive recruiting event. If salary is going to be a weak point; stating salary will be fair and our benefits are exceptional might be an option (This sounds like a typical hospital which the administrator from my personal example could have used.) If your existing staff has limited experience; then you may need to focus on ongoing training and peer review.  Don't hide your weak points but determine a way to enhance them during your advertisements, interviews, and publications.  Never assume your candidate has not heard of your weak points; your job is to address them and work toward enhancing them when it is feasible.
Presentation is critical. In our recruiting company, one of our tools is to assist the owner or manager with effective advertisement for post card mailers, internet ads, and cold calls. We offer multiple recruiting tools for practices wanting to hire nurses and therapists. These tools include direct mail, cold calls, internet job board, recruiting software, consulting, and the best lists of professionals in the industry. We continue to develop new tools to give the "professional grade" results that customers need.
Direct mail can be highly effective in presenting your message for a majority of local candidates near your practice. Design is critical to the card message.  You have six seconds to capture attention with direct mail. I you use a post card, the primary sales points and graphics must be clear and address needs of the candidate (not the owner).  Remember the six second rule along with showmanship and truth. You can design your own card or use the staff at our company to create a message. Keep your evaluation handy as you create the message.
Cold calling is a tried and true method we use in the local recruiting area. Some candidates respond better to a written message (cards or letters) and some better to phone calls.  I do not recommend ro-bo calls. If you care to offer the best… then take the time to talk in person.
Internet job boards give you a national coverage and can work well when someone is "actively" in search for a job.  Use a professional to assist with creating of a message that responds to search results. Using job boards that relate to the particular healthcare workers will generally give you applicants that are licensed in healthcare; instead of someone who is just cruising for a job.
Review each word going out with cold calls, social media, internet job boards, and interviews.  Future articles will address the various message types in greater detail.
"Right Time"
Trying to sell snow shovels in April is typically a poor prospect; but, if you have a freak snow storm, they will fly off your store shelves. I have been recruiting for many years and I seldom see an optimal time to recruit. I can see general trends; but, it's difficult to predict when there will be excess people looking for a job. Two national events, in the past few years, created temporary excess of candidates (Changes in the Medicare payment system during President Clinton's administration cause a mass lay-off and the crashing economy during President Bush's time caused many people who were previously part time or retired to seek full time employment, which resulted in an oversupply of the market.) There are regional events that can create a surplus such as a hospital lay-off or schools producing too many therapists in an area; but, these are typically regional and shorter term.
I believe there are some general trends that point toward more optimal times to recruit.
If you are searching for temporary or part time employees, the Christmas season can be a good time of the year.  If you are planning a mailer, one great time to hit homes are during a family holiday.  These are life change times when families are typically spending extra time together and discussing their life and job satisfaction. The same holds for any life change event (such as end of school year); it can be a good time to contact people by mail or calls. If you hear rumors of an impending lay-off or plant closure, hit the area quickly with job opportunities. If you know of a life change or community change event, recruit the area.
Most often your recruiting needs will occur on an unplanned/emergency basis.  Anytime you recruit can be effective; but, you may need to be more aggressive during emergency times. We recommend stronger tactics when recruiting in "off times" or when a first attempt does not succeed. With difficult times, try methods such as "branding" your message with multiple recruiting methods (calls, cards, internet, etc.) or repeat mailers (sending identical cards to the same audience every few weeks).    You see "branding" used in weekly grocery store ads or political ads and it is effective.   One key in difficult times is to put your best message, out to the best audience, multiple ways and times.
Obviously the best time to recruit is when someone is interested in a job. The problem is there is no way to know when that best time will be occurring; so don't sit around waiting for the perfect time. When you delay recruiting; you are leaving potential money and growth on the table.
"Right Product"
Everyone hides the dirty dishes in the dishwasher when visitors drop by the house without notice. The person who takes housekeeping seriously, will clean-up after each meal because it's the best practice. If you have a weak practice; start cleaning up the weak points as an ongoing process and before you start recruiting. Quality people go to quality practices.
No practice is perfect. Use the evaluation discussed earlier to write down your strong and weak points; then use this as your "Quality Improvement (QI) Tool".   Address those items that are selling points to the candidate you want to attract.  I cannot over emphasize this next point:  the practice you build and promote to candidates must address those needs that would excite the candidate you want to hire. The owner has selling points that are important to him; but, these points may not be so important to the person you are trying to attract. View your recruiting sales from the perspective of the customer (your potential hire).
Summary
Recruiting is a process that relies partially on luck; however, you can shift the odds into your favor.  Create a recruiting program that attracts the type of candidate you want to hire.
Advertise your strong practice points as part of your recruiting event.  Be aggressive and professional in recruiting.
In our business, we consult with practices to enhance their recruiting programs. We provide "professional grade" recruiting tools and promote the "Five R's" in our approach. Our goal is to help those best practices grow while making recruiting affordable.
The following two tabs change content below.
Steve Passmore, DPT
Dr. Steve Passmore graduated as a Physical Therapist in 1977 and has enjoyed a unique career from clinician, to management, to operations, to consultant. In 2002 he established Healthy Recruiting Tools and later Focused Mailing Services. Healthy Recruiting Tools provides the "tools" for companies who need to recruit healthcare workers (primarily therapists and nurses). Focused Mailing Services, on the other hand, provides discount direct mail services for any company that needs to advertise by direct mail. We work with mega corporations, to charities, to the mom-and-pop operations who need to grow.
For additional information please feel free to contact at Steve at [email protected], visit our web site at www.RecruitingTherapy.com or www.FocusedMailing.com, or call at 888-993-9675. Also available is an in-service training course for conferences and our book Recruiting in Healthcare: Unlocking the Methods and the Magic 2nd Edition available thru Amazon hard copy or kindle.
Latest posts by Steve Passmore, DPT (see all)