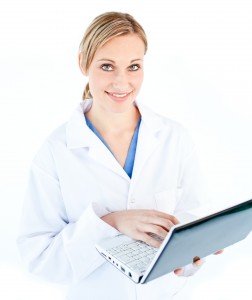 Problems come up all the time in the therapy world and people look to their peers for help, support and resources, whether at hospitals, private practice, nursing home or home health agencies.  It is fantastic to be able to look to peers when you are seeking advice on a Medicare policy (does Medicare pay for aquatic therapy?), or unbiased reviews of new equipment (do you find that this treadmill is really better for therapy patients?).  In the "olden" days you had to call someone, or meet up with them, perhaps at a professional meeting, to get their advice.  These days, advice is really very contemporaneous.  For many years we have belonged to list serves, where we can post a question, and get a stream of answers over several days, or even weeks.  And now with Twitter, Facebook and other social media venues we not only get advice quickly (on Twitter it could be seconds), but thousands and thousands and thousands of other people will know what advice we were seeking.  All good and well, especially if you have to tweet out "Anybody got a copy of the Hummingbird Cake recipe?" or "Where can I find resource articles on dry needling to show my boss so that he will let me go to a course?"
I guess you know where I am going with this.  It is not prudent, in fact not at all advisable, to post in an online forum compliance problems, HIPAA infractions, employee disciplinary issues, or worse yet to fully describe a compliance situation you discovered and ask the online group "do you think I need to report this, she's really a good therapist and the patients really like her?"
Rehab Compliance Confidential – Not Suitable for Online Use
Play with me here for a minute, pretend that you are the "subject" of the request for help via a Tweet or online post, or even that you know the person that is being referenced (and you can't wait to let them know about this infraction). Note- fictitious examples based on real stories.
"I'm in a small town and we are providing services for a patient with an unusual disease (disease named), and two family members have this disease.  Can anyone offer some suggestions as to what treatment can be done?" A variation of that was posted on a social media site, under the real name of the poster, and the real name of the facility.
"I let a doctor use my office when he needs it in exchange for referrals – it's worked out pretty well for both of us."  Posted to an Online Professional Group, under the real name of the poster, and all his contact information readily available to all members of the group.
"I disciplined this therapist several times (all the steps were listed), and I am wondering what suggestions anyone can offer to me on what to do." Email address of the poster indicated a large healthcare provider, likely one that had an HR as well as Compliance Department.  What if this is about you, or a colleague?
So in example #1 it is fairly easy to guess that this is a potential HIPAA problem, no need to say anymore.   The fines under the "new era" of HIPAA enforcement by the Office of Civil Rights (OCR) are pretty steep, especially if during an investigation they discover that the provider has not done the mandated Privacy or Security Risk Assessments. (BTW – Have you?)
In scenario #2, this certainly looks like "something of value" in exchange for referrals to federal healthcare programs.  Potentially a violation of the Anti-kickback Statute, one of the five major laws that all healthcare providers should be acutely aware of.  (The OIG refers to these laws as the "Five Faces of Fraud & Abuse").
Now what about example #3, you make think this looks like a personnel issue, and a manager gone rogue, but all is well when the manager sees the errors of their way.  However, what if a number of people, start chiming in on their opinions about the therapist in question, and perhaps assume facts not in "evidence".  Then others begin to pile on…..  Next thing you know the therapist gets word of this and without any problem at all obtains a copy of all the posts and all the feedback.  Least of all the manager who posted will be embarrassed, and might even be disciplined.  But wait, this may create havoc with the HR department, the employee may be terminated and file a complaint for not only being fired, but for being slandered.  Hold on…. here is the important thing to consider, this employee may not complain to HR, but may silently complain to 1-800-HHS TIPS, or obtain counsel for the purpose of being a qui tam relator (whistleblower).  Maybe they believe they have evidence to show a pattern of abuse, (or worse yet, fraud), and feel that they should come forward.  In the compliance world this is what is referred to as the "disgruntled employee coming forward as a whistleblower".
Ok, so I got a bit dramatic, but after all, I am in compliance, and I have worked with providers that have been subject to whistleblower suits, this is not so strange to imagine.  To make it perfectly clear, not every disgruntled employee is a whistleblower.  Let your compliance program guide and Code of Conduct guide all your employees moving forward, and best practice is "Rehab Compliance Confidential".
Have you seen postings that you think should have been "rehab compliance confidential?"  Do you have a trusted advisor?  Does your facility have a compliance and ethics program?  Is there someone you can turn to for advice on compliance, ethical and legal matters?
Photo Credit: Cedward Brice via Compfight
Medicare Compliance with Nancy Beckley
PhysicalTherapist.com is proud to bring you the series "Medicare Compliance." These articles are available on Nancy's Blog located at www.nancybeckley.com. We hope you enjoy this content as much as we do. Please share, comment and interact with this series on Medicare Compliance.
The following two tabs change content below.
Nancy J. Beckley is the president of Nancy Beckley & Associates LLC, a firm specializing in outpatient therapy compliance. The firm offers compliance outsourcing, risk assessment, compliance plan development, annual compliance training, and external auditing, due diligence and investigation support. Clients include providers under Medicare probe review, progressive corrective action plans, corporate integrity agreements, ZPIC investigations and RAC audits.
Nancy's background includes 15 years hospital experience serving in management capacities at two large inpatient rehabilitation facilities with extensive managed care contracting and program management expertise. A therapist by background and training, Nancy has served as program director, facility director and administrator in both inpatient and outpatient rehabilitation facilities.
She is a nationally known speaker in the area of rehab compliance, and has presented at the Provider Practice Compliance Conference, Florida Compliance Conference, and the Healthcare Compliance Association Compliance Institute. She was featured in a Healthcare Compliance Association webinar on Hospital Risks in Outpatient Therapy, and has authored three articles for Compliance Today and written over 20 articles on the RAC program.
Ms. Beckley's area of expertise includes:
• Compliance program development, consulting, training, and external auditor
• Medicare regulatory requirements for outpatient therapy providers, including extensive experience in Medicare survey and certification for outpatient therapy providers
• Audit and consulting engagements under attorney-client privilege for risk assessment and potential payback liability analysis
• Medicare program integrity initiatives: MACs, RACs, CERT, ZPIC, probe reviews, pre and post payment reviews
• Nationally recognized expert on CORFs, served on the Medicare CORF Technical Expert Panel
• Hospital outpatient compliance consulting, auditing & training
• Compliance due diligence activities in acquisition and portfolio development to assess Medicare compliance risk
EDUCATION: University of South Florida, M.B.A.; Harvard University School of Public Health Course for Managed Care Executives; University of Illinois, M.S.; University of Wisconsin, B.S.
PROFESSIONAL ASSOCIATIONS: Board of Directors, National Association of Rehab Agencies (NARA); Member, Healthcare Compliance Association; Senior Contributing Editor, RAC Monitor + Monitor Mondays; Compliance Columnist for APTA's IMPACT Journal
PROFESSIONALCERTIFICATIONS: CHC, Certified, Healthcare Compliance by the Healthcare Compliance Certification Board
PUBLICATIONS & PRESENTATIONS: Available upon request
CONTACT: 414-748-4376; [email protected];
Latest posts by Nancy Beckley (see all)